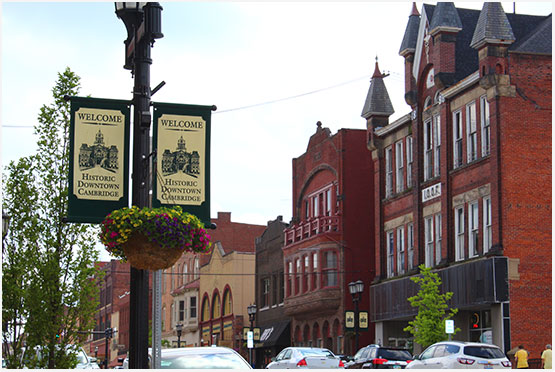 Welcome to the Beautiful City of Cambridge
The Crossroads of Southeastern Ohio!
In 1796 Col. Ebenezer Zane received funds to cut a road from Ohio to Kentucky. He responded by naming the first settlements in honor of Cambridge, Maryland. The land on which part of Cambridge stands was granted by Zaccheus Biggs and Zaccheus Beatty by the government in 1801. Another group of early settlers from the Isle of Guernsey in the British Channel pitched camp in 1806 in Cambridge because the women in the party refused to move on.
Long ago, the Delaware, Shawnee, Wyandotte, Miami, Chippewa and Mingo indians traveled the forest spread throughout Guernsey County. Many bridges were built in the county including the construction of the first bridge authorized in the Northwest Territory. Some of the bridges curved, as evidence by several 'S' bridges, which still survive.
Early in the 1900's, the county, and particularly Cambridge became synonymous with quality glass of Cambridge Glass. Collectors who appreciate quality glass still visit Cambridge for antique glass.
Read More
Mayor's Welcome Letter
As Mayor of the City of Cambridge Ohio, I promote honoring our past as we move forward to our exciting future. Taxpayers and employees will be involved in the organization, planning, and implementation of projects to benefit growth and development of the City.
Coming from a small business background, this administration will strongly promote customer service throughout the city. City Services are managed to insure they improve municipal operating efficiency in serving the taxpayers. We promote teamwork and safety to instill a high degree of pride among citizens and City employees.
As a lifelong resident of the area, I feel honored to fulfill a passion to lead our City into positive change. The originality of the new Dickens' display downtown to our one of a kind park system, the City of Cambridge is on the move.